Vetiveria zizanoides (Vetiver) Root Oil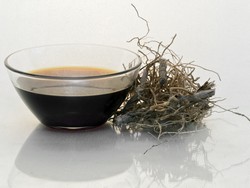 The distilled root essential oil scents quality soaps, cosmetics and aftershaves. Aromatic, stimulant and tonic. Used to treat rheumatism. it can be used to reduce tension.
"
The roots are rich in volatile oil, known as " the oil of tranquility" in India and Srilanka. It has a heavy, earthy aroma, and is strongly repellent to flies, cockroaches, bedbugs , and cloth moths.
Herbs used in