Cinnamomum Verum (Cinnamon) bark Oil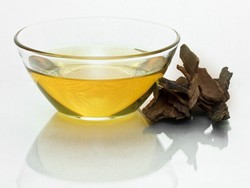 Evergreen, moderate sized tree; bark dark brown, wrinkled; leaves stalked, alternate or sub opposite; flowers stalked, yellowish. Distributed throughout Nepal at 500-2000 m on moist slopes of forested land. A stimulant and anti pain herb beneficial at lifting the spirits . Benefits on sore muscles, inflamed joints, bring relief from the arthritis pain and sprains, nervous system, headache and insomnia, brought on by stress or frayed nerves; It's important antibacterial and anti-fungal properties treat skin irritations and infections and helps to nourishes the skin.
"
Leaves and Bark are extensively used to trear colic and diarrhea. Also used to check nausea and vomitting.
Herbs used in