Rosa Damascena (Rose Petal) Flower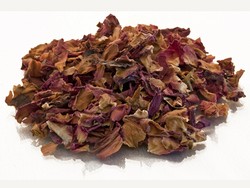 Good for oily skin. Astrigent and moisturises the skin.An infusion of dried rose petals is taken for headache and dizziness and with honey added, as a heart and nerve tonic and a 'blood purifier'. A decoction of the petals made with wine invigorates the tired body and is useful to ease uterine cramps. Associated with pure love and femininity, it is valued by aroma therapists for its rejuvenating qualities. Useful for dry, chapped, aging skin and eczema. helps to ease depression, frigidity, nervous tension and headache.
"
Rose have been important since earliest times in ritual, cosmetics, perfumes and medicines. Various kinds were used medicinally by the ancient Greeks, Romans, and Persians; in AD77 Pliny recorded 32 different disorders that responded well to treatment by rose preparations. Red rose petals were listed in the British Pharmacopoeia until the 1930s as an astringent and flavouring for medicines.
Herbs used in