Azadirachta indica (Neem/Margosa) Leaf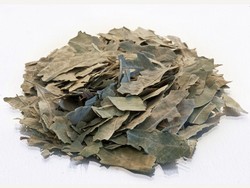 It treats leprosy and other skin diseases shows carcinogen- reducing properties and is antifungal and antiviral. It also destroys bacteria and over 200 insect species including locusts and mites. This is good for many skin disorders including ringworm, alopecia, eczema, scabies, ticks and lice. It is antibacterial and antiviral.
It is one of the most important detoxicants in Ayurvedic medicine and is a potent febrifuge, long used to treat intermittent fevers.Traditional Indian medicine recommend that patients suffering from Chicken Pox sleep on neem leaves. The timber is so highly prized for its insecticidal properties that in parts of Africa it is grown in hedges to provide easily harvested material for protection against inset- borne diseases.
Herbs used in