Myristica fragrans (Nutmeg) fruit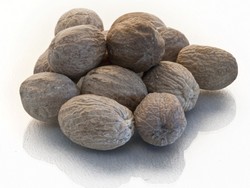 It is used to treat rheumatic conditions. It can also be used in the areas of eczema and ringworm. Stimulant, astringent, anti-inflammatory, can be used for diarrhoea, helping to bind and warm the intestine, relief abdominal pain and distension due to cold.
It reached Europe via Arab traders in the first century AD and was mainly used for medicinal purposes. Although now used almost exclusively as a spice, it was promoted as a tonic after the protuguese took the Moluccas and obtained a monopoly on its production in 1512. The first recorded case of poisoning came in 1576, when a pregnant English Lady consumed 10-12 fruits and became " deliriously inebriated". It has been listed as a chinese medicinal herb since c. 600AD.
Herbs used in