Glycyrrhiza glabra (Licorice)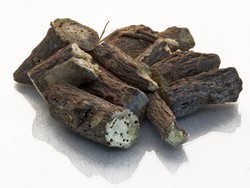 soothing to skin: useful as gentle laxative. Good for dry skin.It reduces inflammation, allergies, asthma, gastritis, peptic ulcers, rheumatism and sore throats. It strengthens the immune system, stimulates the adrenal gland.
American or wild licorice was used by native N Americans and by early settlers for problems with childbirth and menstruation. . it is a key herb in traditional Chinese medicine, its uses being associated with longevity.
Herbs used in