Ocimum basilicum (Basil) Leaf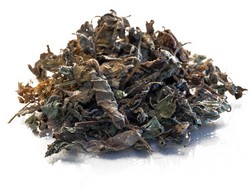 An erect herb about 1 m high; leaves stalked, ovate,gland dotted beneath; flowers purplish whites in recemes. Distributed in eastern and central Nepal at 300-1500 m (Terai-Mid hills) in open, sunny places.Stimulate and re-vitalize the skin; Very good for skin diseases; having antiseptic properties. enhances and tone up the luster of dull looking skin; helps to control acne; its anti-oxidant properties along with vitamin A and C, prevents from free radicles and helps to control skin aging and wrinkle formation; provide extra moisture to the skin to stay healthy & supple; its calming effect get relief from stress.
1. It is believed to protect against misfortune and represents purity, harmony, serenity and luck. 2. It is also used to treat many skin conditions as well as coughs, bronchitis and diabetes. 3. It is regarded as the most sacred plant after the lotus and is grown by most Hindu homes, and around temples, for its protective influence.The lady who worship tulasi, is blessed with long life of husbend, longevity, prosperity, fortunee and wealth.
Herbs used in