piper nigrum (Black pepper)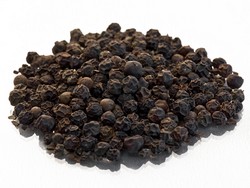 Stimulant to the circulatory, digestive and lymphatic systems and used for rheumatism and skin disease, nervous headaches, varicose veins, congestion and as a convalescent tonic. Excellent for easing the discomfort of any sort of respiratory ailment, either inhaled, or as a chest rub.
"
"
"
It is one of the most valuable spices: Attila and Hun demanded a huge quantity of it as ransom during the siege of Rome(AD 408), and its use as currency gave rise to the term " peppercorn rent".
Herbs used in